Life Style
Snickerdoodle Cocktail (with RumChata) (With Rumchata & Amaretto)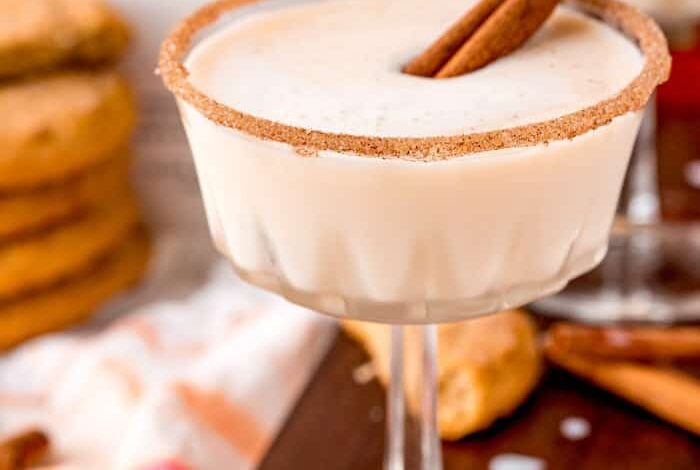 Nothing marks a holiday celebration more than a Rumchata Drink!
This Rumchata cocktail is an adult version of a classic snickerdoodle cookie in a cocktail form. A cross between a cinnamon vanilla milkshake and buttered rum, make this drink anytime you want to get the party started!
A Holiday Favorite
Everyone loves special holiday drinks that are unique, delicious, and wonderful for raising a toast or two!
Rumchata is a specialty liqueur that tastes almost like Bailey's Irish Cream, but it has more of a creamy caramel flavor.
It's not only perfect to serve over ice, but it makes for a wonderful splash in hot or cold coffee drinks, too!
For a hot beverage, just add the liqueurs to warmed milk and top with whipped cream and a cinnamon stick for stirring!
Ingredients and Variations
LIQUEURS The perfect Snickerdoodle cocktail has just the right balance of Rumchata, Amaretto, & Buttershots!
DAIRY Whole milk is called for here, but coconut milk will add a more tropical flavor profile to the drink! During the holidays, it's all about presentation!
FLAVOR Cinnamon, simple syrup, and a cinnamon stick for garnish complete this holiday drink!
DECORATIONS Dip the rim of a martini glass (or cocktail glass of your choice) in cinnamon sugar and create your own fun and festive Rumchata cocktail! Add a sprinkle of cinnamon and a cinnamon stick for decoration.
How to Make a Snickerdoodle Rumchata Cocktail
It's easy to make 'cookie cocktails', you just need a few ingredients!
Add ice to a cocktail shaker with Rumchata, milk, Amaretto, and Buttershots. Close and shake vigorously for 15 seconds.
Pour simple syrup into a shallow bowl and dip the rim of the cocktail glass in the syrup and then in another shallow bowl of cinnamon sugar to coat the rim.
Strain into the prepared glass and garnish with a cinnamon stick. Serve immediately to your guest!
Tips for Success
For best cocktail results, we advise you to pre-chill the glasses either in the refrigerator or the freezer before rimming them in simple syrup and sugar.
Keep the RumChata, milk, Amaretto, Buttershots, and Vodka (if desired) chilled before using as well. A Snickerdoodle Cocktail tastes best when it is cold and refreshing!
Smaller pieces of crushed ice not only chill the mixture while it's being shaken, but can also be poured into the glass as well for a super cold, super sweet, holiday celebration beverage!
Delicious Holiday Drinks
Did you make this Snickerdoodle Cocktail? Be sure to leave a rating and a comment below!
Snickerdoodle Cocktail
This creamy cocktail tastes like snickerdoodle cookies or a cinnamon vanilla milkshake. It's made with RumChata, Amaretto, milk, and Buttershots that give it that irresistible cookie essence!
Add ice to a cocktail shaker and pour in the RumChata, milk, Amaretto, and Buttershots. Cover and shake vigorously for 15 seconds.

Dip the rim of a cocktail glass in the simple syrup and then in the cinnamon sugar, moving it around to coat.

Strain the drink into the prepared cocktail glass, garnish with a cinnamon stick, and serve immediately.
This is also really delicious hot with an additional 4 ounces of milk and topped with whipped cream. Heat the milk on the stove and then add in the liquor
Calories: 381, Carbohydrates: 65g, Protein: 1g, Fat: 1g, Saturated Fat: 1g, Cholesterol: 3mg, Sodium: 26mg, Potassium: 37mg, Sugar: 65g, Calcium: 32mg, Iron: 1mg
Keyword how to make Rumchata drink, Rumchata Cocktail, Rumchata Drink, Snickerdoodle Cocktail
© SpendWithPennies.com. Content and photographs are copyright protected. Sharing of this recipe is both encouraged and appreciated. Copying and/or pasting full recipes to any social media is strictly prohibited.
Please view my photo use policy here
.