World
Giulio Regeni: Egypt 'suspends' investigation into Cambridge student's murder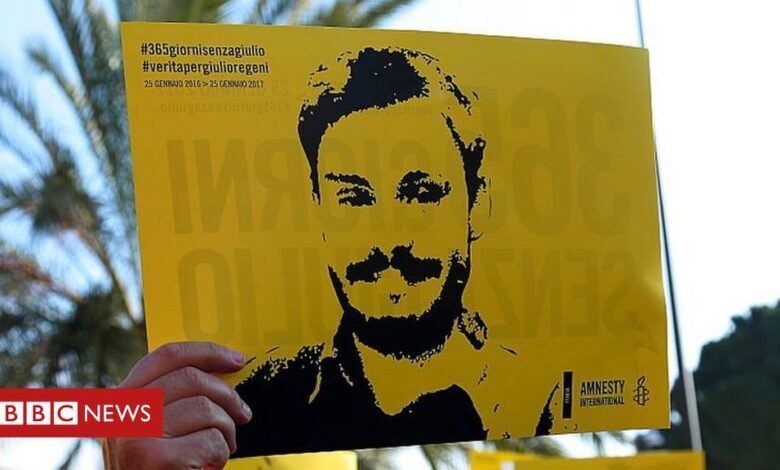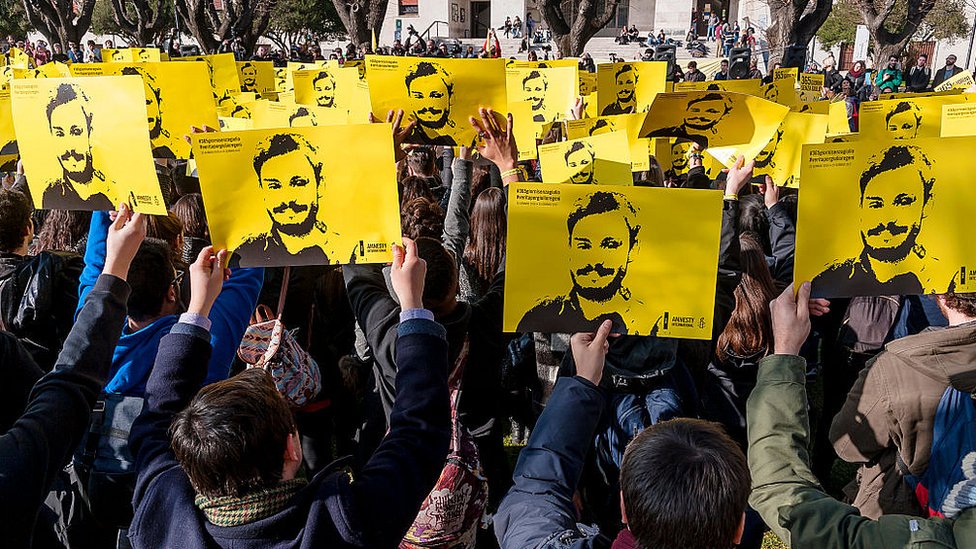 Egyptian authorities have said they are "temporarily closing" the investigation into the 2016 murder of Italian researcher Giulio Regeni, with the killer "still unknown".
It comes as Italian prosecutors are said to be planning to put up to five members of the Egyptian security forces on trial in Italy in absentia.
Regeni, a postgraduate student at the University of Cambridge, went missing in Cairo in January 2016.
His body was found nine days later.
The murder has caused a diplomatic row between the two countries, with Italian prosecutors accusing Egyptian officials of trying to mislead the investigation.
Italian investigators suspect the student was targeted by Egyptian security forces because of his research into independent trade unions – a politically controversial topic in Egypt.
Egyptian authorities deny this and have suggested various other explanations for his murder – including that he was the victim of a robbery by a criminal gang.
Regeni's family described the latest announcement from Cairo as "the umpteenth slap in the face" and called on the Italian government to recall its ambassador to Egypt.
What happened to Giulio Regeni?
The PhD student disappeared on a research trip on 25 January 2016 – the fifth anniversary of the start of the uprising against former President Hosni Mubarak, meaning there was a heavy police presence in Cairo.
His body was discovered on 3 February in a ditch by the side of a road. His mother told the Italian parliament in 2018 that her son's body was so disfigured that she was only able to identify him by the tip of his nose.
An Italian post-mortem examination found that Regeni had been tortured "in stages" between 25 January and the day of his death.
His body sustained injuries that showed he was beaten with "kicks, fists, sticks and clubs", and that he died from a broken neck, prosecutors said.
Egypt has denied that Regeni died in custody although officials have admitted that security services were monitoring him.
What is Egypt saying now?
A statement from the Cairo prosecutor expressed "reservations" about the strength of Italy's case against the security agents and said there was "insufficient evidence to support the accusation in court". It added that "the general prosecutor of Egypt respects the decisions that will be taken, in its autonomy, by the Rome prosecutor's office".
It said Egyptian prosecutors had "collected sufficient evidence against a criminal gang accused of aggravated theft of the effects of Regeni that were found in the home of one of the criminal gang members". But it added that "the material perpetrator" of the murder remains unknown.
"Egypt's public prosecution will proceed to the temporary closure of the case… charging the competent investigative authorities to take all necessary measures to identify those responsible for the murder," it said.
Egyptian investigators have previously suggested that Regeni was murdered by a five-strong criminal gang – and that all of them were then killed in a shootout. Italian officials have branded the idea "implausible".
Last year, Italian prosecutor Sergio Colaiocco told a parliamentary commission that Egyptian officials had created "fake stories… to throw off the investigation".
The first was that a post-mortem examination – carried out in Egypt – showed that the student had been killed in a car accident. This was contradicted by the examination carried out in Italy, he said.
Another was that, because Regeni was naked when his body was found, there was a sexual motive behind his death.
Mr Colaiocco said another Egyptian claim, that Regeni had been seen arguing with a foreigner near the Italian consulate on the evening before his death, was debunked by telephone records.
What is Italy's position?
Legal sources in Rome told Reuters news agency that Italian prosecutors were expected to press ahead with the trial in absentia of some or all of the five suspects. The Italian investigation is expected to be formally closed this week, the sources said.
Regeni's parents called the latest Egyptian statement "an absolute lack of respect towards not only our judiciary but also our intelligence".
"In these five years we have been subjected to all kinds of hurt and contempt on the part of Egypt, which kidnapped, tortured and killed our son," they said.
Source link