Life Style
One Pan Turkey Dinner (5 Dishes in 1 Pan!)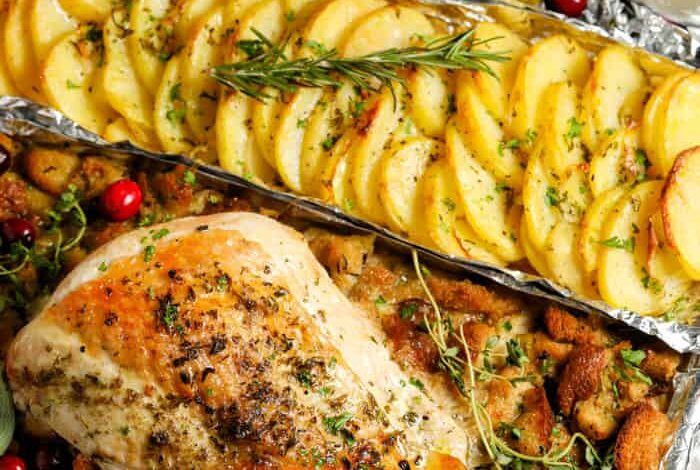 Sheet Pan Turkey dinner is a complete meal on a single pan, perfect to feed a smaller group!
Section a sheet pan with foil and add in your favorite veggies, some stuffing, and potatoes for the perfect meal all on one pan!
I am so excited to have partnered with Reynolds Wrap® Foil to bring you this sheet pan turkey dinner.
Thanks to Reynolds Wrap® Heavy Duty Foil, now the entire holiday meal can be made in just one sheet pan!
Why We Love This Dinner
As much as we love a perfect roast turkey, this is a great recipe to serve for just your family this holiday.
This meal makes just enough for 4 people with all of our favorite fixings!
Reynolds Wrap® Heavy Duty Foil makes cooking (and clean up) a total breeze. Sectioning the baking tray keeps everything in its place and helps ensure proper cooking.
This recipe is versatile: swap out Brussels sprouts for broccoli. Use a pre-made stuffing mix. Prefer mashed potatoes? Smash them up before adding to the pan!
How to Prepare the Pan
You'll need a large baking pan for this recipe (mine is 13″x18″ ). If you don't have a large pan, two smaller pans can be used but check they'll fit in your oven side by side.
Next, you'll want to create your sections. Reynolds Wrap® Heavy Duty Foil is best for this as it stands up well to all the ingredients and it won't tear (which also makes for extra easy clean up).
You'll use just over ⅓ of the pan for the turkey and stuffing, about ⅓ of the pan for the potatoes, and the remaining ⅓ for the Brussels sprouts and cranberry sauce.
Cut a large piece of Reynolds Wrap® Heavy Duty Foil and fold it in half. Curl up the edges to create each section.
The easy clean up for this recipe means more time with family and less time scrubbing dishes in the kitchen!
Proudly made in the U.S.A, Reynolds Wrap® Heavy Duty Foil is available in both 12-inch and 18-inch rolls making it perfect for everything from foil packs to creating a waterbath for cheesecakes and of course this sheet pan meal!
How to Make Sheet Pan Turkey Dinner
Prepare pan as directed above using Reynolds Wrap® Heavy Duty Foil.
Prepare stuffing and set aside (ensure your stuffing is not too moist as the turkey will release juices).
Season turkey and place in the largest section of the pan. Surround with stuffing.
Par cook the sliced potatoes about 5 minutes, toss with seasonings. Place in the middle section of the pan, drizzle with cream, top with butter.
Fill a bowl with fresh cranberries and sugar. Add to the pan and place in the oven.
Add Brussels sprouts in the last 20 minutes of cook time according to the recipe below.
To Serve
Carefully remove cranberry sauce from the pan and transfer to a serving bowl to cool.
Allow the turkey breast to rest before slicing.
While turkey is resting, toss Brussels sprouts with bacon and move to a serving plate.
Place turkey and stuffing on a serving platter. Garnish with fresh herbs like rosemary or sage.
We like to serve Turkey Dinner with our easy turkey gravy recipe, some homemade fresh buns, and a pumpkin cheesecake for dessert!
Variations & Shortcuts
STUFFING can be swapped out for your favorite homemade stuffing recipe, cornbread dressing, or even a couple of boxes of store-bought stuffing mix. Ensure it isn't too moist going onto the pan.
POTATOES are sliced and partially pre-cooked. If you use thin-skinned potatoes no peeling is required. If you prefer mashed potatoes, they should be chilled before adding to the pan and can be lightly covered with foil.
VEGETABLES Swap out Brussels sprouts for your favorite veggies from broccoli to asparagus. Keep in mind that some veggies will need less time and should be added later so they don't overcook.
CRANBERRY SAUCE Most ceramic bowls are oven-safe (check the bottom of your bowl, it should indicate). Use a bowl much taller than the cranberries as it will boil up as it cooks and can easily boil over. If you'd prefer, homemade or store-bought cranberry sauce can be made ahead of time and doesn't have to go on the pan.
Tips for Success
Use Reynolds Wrap® Heavy Duty Foil to ensure the sections hold their shape and the foil doesn't tear.
The turkey will release juices into the stuffing so you do not want it to be too moist going onto the pan. Ensure you use dry bread cubes.
Cut Brussels sprouts in half so they are roughly the same size so they will cook at the same rate.
Depending on the size and shape of your turkey breast, cook time can vary slightly. Check the turkey a bit early and use an instant-read thermometer to ensure it reaches 165°F.
As there won't be juices in the pan to make gravy, keep a packet of gravy mix on hand or prepare gravy from chicken/turkey broth. This can be done 24 hours in advance.
More Turkey Dinner Sides
Did your family love this One-Pan Turkey Dinner? Be sure to leave a comment and a rating below! 
One Pan Turkey Dinner
Turkey, stuffing, potatoes, brussels sprouts, and cranberry sauce are all baked together on a foil-lined pan to create the ultimate turkey dinner!
Pan
Preheat oven to 375°F.

Line a large 18″x13″ sheet pan with Reynolds Wrap® Heavy Duty Foil. Divide the tray into sections using foil. The first section is for the turkey and stuffing, about 8" of the pan. Make the middle section about 5" for the potatoes and the last section will be 5" for the brussels sprouts. Generously spray each section with cooking spray (or use Reynolds Wrap Non Stick Foil to keep food from sticking). Set aside.
Stuffing
Cook onion & celery in butter with poultry seasoning over medium-low heat until tender but not browned, about 10 minutes.

Combine bread cubes, onion mixture & herbs in a bowl. Toss with broth, a little bit at a time until bread is moist (but not soggy). You may not need all of the broth. Season with salt and pepper to taste. Set aside.
Potatoes
Bring a large pot of water to a boil.

Scrub the potatoes and slice ¼″ thick. Boil 5 minutes or just until tender-crisp. During the last minute of cooking, add the sliced onions to the water. Drain well.

Toss the potatoes with rosemary, garlic powder, and salt & pepper. Place in the middle section of the pan. Drizzle with the cream and add pats of butter on top of the potatoes.
Baking
Place the sheet pan in the middle of the oven and bake 25 minutes. Add brussels sprouts and uncooked bacon to the remaining section. Bake an additional 25-35 minutes or until turkey is cooked to 165°F.

Remove from the oven and rest 15 minutes before serving.

While the turkey is resting, remove the foil from the cranberry sauce, stir and transfer to a cool bowl.

Toss Brussels and bacon to combine. Slice the turkey breast and serve.
Bread should be dried before making stuffing. Cut and leave out 24 hours or dry in the oven at 325°F for about 7-9 minutes. Cool completely.
The turkey will release juices into the stuffing so ensure it is not too moist when placing on the pan.
The cranberries will bubble up while cooking so ensure your bowl is much larger than needed so it doesn't bubble over.
These are simple roast potatoes. Potatoes can be mashed/smashed after baking while the turkey rests or topped with additional butter and/or gravy for serving. 
Calories: 1114, Carbohydrates: 119g, Protein: 70g, Fat: 43g, Saturated Fat: 20g, Cholesterol: 211mg, Sodium: 1605mg, Potassium: 2152mg, Fiber: 15g, Sugar: 38g, Vitamin A: 1890IU, Vitamin C: 148mg, Calcium: 281mg, Iron: 8mg
Keyword best One Pan Turkey Dinner, How to make One Pan Turkey Dinner, One Pan Turkey Dinner, One Pan Turkey Dinner Recipe
© SpendWithPennies.com. Content and photographs are copyright protected. Sharing of this recipe is both encouraged and appreciated. Copying and/or pasting full recipes to any social media is strictly prohibited.
Please view my photo use policy here
.