World
Ethiopia Tigray crisis: UN warns 'war crimes' may have happened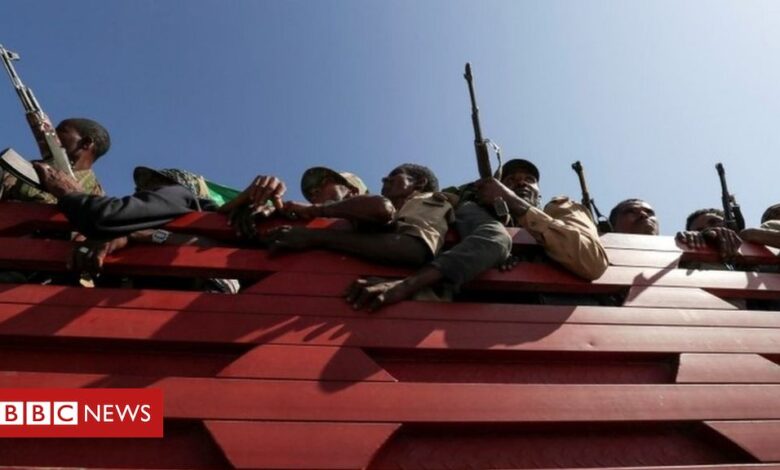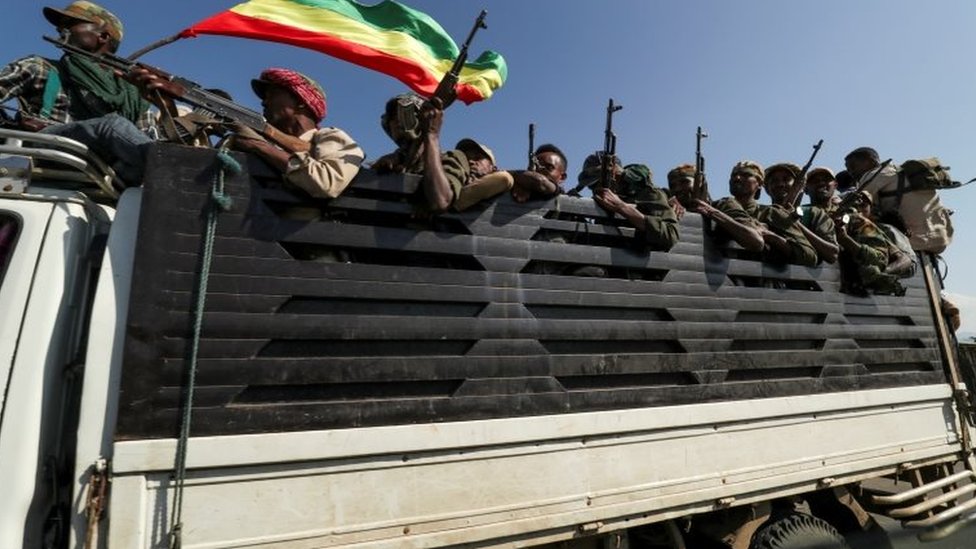 Reports of the mass killing of civilians in Ethiopia's northern Tigray region "would amount to war crimes" if confirmed, the UN has warned.
The UN human rights chief has called for an inquiry into reports that up to hundreds of people had been stabbed and hacked to death in one town.
Prime Minister Abiy Ahmed has accused fighters from the Tigray People's Liberation Front of the massacre.
Tigrayan officials have denied involvement in the atrocities.
The region's leader Debretsion Gebremichael told AFP news agency that the accusations were "baseless."
Mr Abiy said that TPLF fighters went on the rampage after federal troops had "liberated" the western part of Tigray, "brutally" killing innocent civilians in Mai-Kadra, a town in the South West Zone of Tigray.
Witnesses blamed forces loyal to TPLF for Monday's killings – first reported by human rights group Amnesty International.
If confirmed, this would be the first large-scale killing of civilians in the fighting between government forces and the TPLF which broke out last week.
Getting information about the clashes is hard because phone lines and internet services are down.
Ms Bachelet said she was "alarmed" about the situation in Ethiopia, but added that the "first priority" was to stop the fighting and prevent further atrocities.
There has been long-standing tension between Ethiopia's government and the TPLF, which controls Tigray, the country's northernmost state. The tension has boiled over into military clashes, including air strikes by federal forces.
As a result, thousands of civilians have crossed the border into Sudan, which says it will shelter them in a refugee camp.
Who were the victims?
Amnesty said the killings happened on the night of 9 November.
The human rights group said it had confirmed that "scores, and likely hundreds, of people were stabbed or hacked to death in Mai-Kadra (May Cadera) town".
It said it had seen and "digitally verified gruesome photographs and videos of bodies strewn across the town or being carried away on stretchers".
Amnesty said the victims appeared to be labourers not involved in the conflict. It is not clear where they came from.
It said witnesses had spoken of wounds "inflicted by sharp weapons such as knives and machetes". Some witnesses said the attacks were carried out by forces loyal to the TPLF after they had been defeated by federal troops in an area called Lugdi.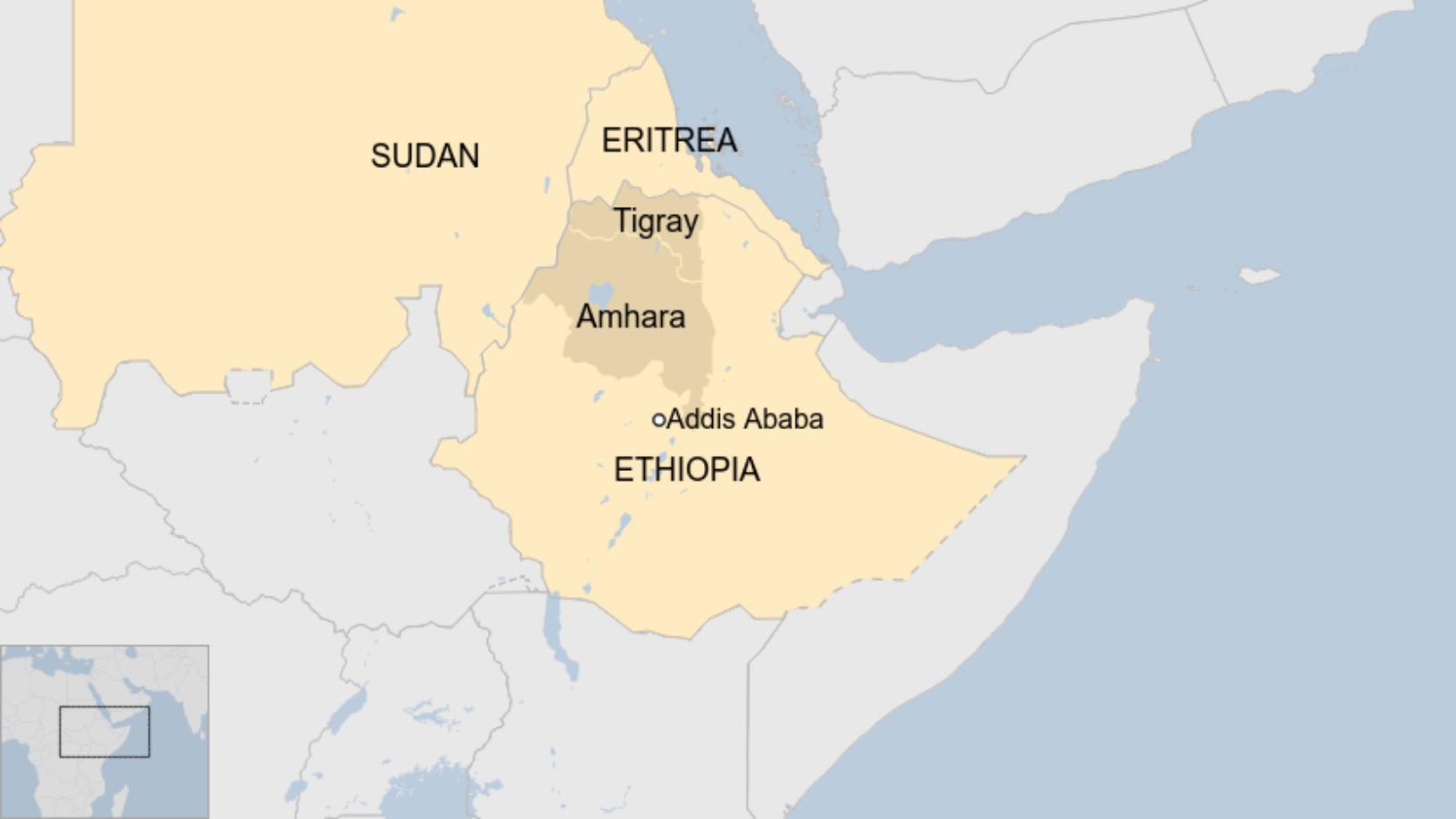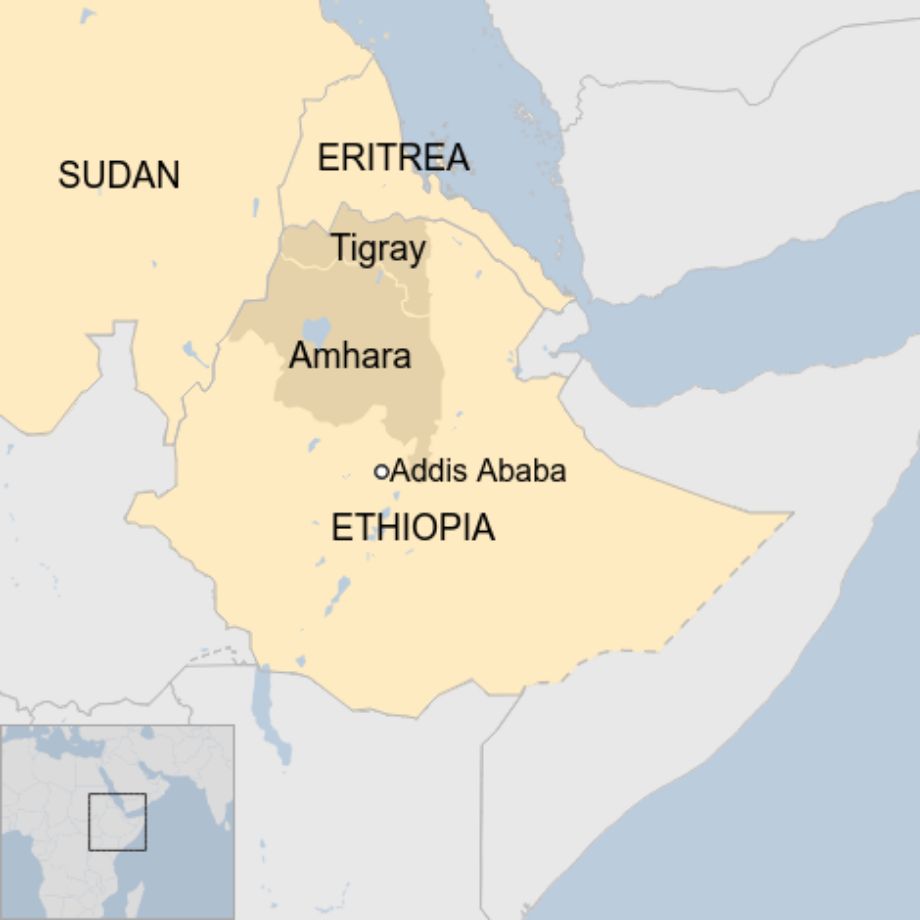 Civilians were also killed in an air strike in Tigray's capital, Mekelle, and in the city of Adigrat close to the border with Eritrea, Mr Debretsion told AFP.
"People are running in every corner. So the most important consequence of the conflict currently is displacement. Of course there are casualties, but we don't have the numbers. This is too big to manage," he added.
What is life like in Tigray?
By Hana Zeratsyon, BBC Tigrinya
Communication is difficult at the moment because internet and mobile phone services have been cut.
There are already reports of a shortage of flour and fuel – and, worst of all, water, which was already rationed.
In Mekelle, which has a population of between 400,000 and 500,000, homes used to get piped water once a week, but the supply has stopped.
Families used to buy water from vendors, but with phones disconnected they can no longer call to put in orders.
On Thursday it was reported that a power-generating dam had been damaged in an air strike, cutting electricity supply in the region.
I am anxious about the safety of my family, especially 11-year-old brother who is suffering from cerebral palsy and epilepsy.
I am extremely worried about whether he will get his medication.
As he cannot talk, I used to see him during video calls but that is now not possible.
What has Mr Abi said?
Ethiopia's prime minister said his forces had liberated an area that had been subject to "gruesome and fatal attacks" at the hands of the TPLF.
"Committing crimes and injustice is very normal for the greedy junta," Mr Abiy said in a Facebook statement.
Referring to army soldiers he said were shot when their hands and legs were tied, he added, "the cruelty was heart-breaking".
Mr Abiy's government later announced it had appointed Mulu Nega Kahsay as an interim administrator for the province as part of its efforts to oust the regional leadership.
His government has also issued arrest warrants for Tigray officials.
Why has fighting broken out now?
Mr Abiy ordered the military operation against the TPLF after he said its fighters had crossed "the last red line".
He accused them of attacking a military camp hosting federal troops on 4 November, calling the action "treasonous". The TPLF has denied attacking the camp.
There have since been a number of clashes and air strikes in Tigray, with Mr Abiy saying government forces had made major gains.
Why was the TPLF so significant?
Since the overthrow of Marxist leader Mengistu Haile Mariam in 1991 and until 2018, the TPLF was the main partner in the governing coalition, and ran Tigray.
As a guerrilla army, the TPLF had played a pivotal role in Mengistu's demise and went on to dominate not just the country's politics but the economy as well.
However, Mr Abiy curbed its influence after coming to power in 2018, while the TPLF refused to dissolve and merge with the other three parties to form the Prosperity Party, as pushed for by Mr Abiy.
Mr Abiy accuses some TPLF leaders of being "fugitives from justice" and opposing his moves to reform the way Ethiopia is run, but they say they have been unfairly targeted.
The disagreement represents a deep fracture in the very core of power in the country.
Most of Tigray's regional leaders, including Mr Debretsion, served in the central government for long periods of time. Mr Debretsion, who is a veteran fighter, was at one time the deputy prime minister.
What does the TPLF want?
Tigray's administration sees Mr Abiy's reforms as an attempt to build a unitary system of government destroying the current federal arrangement.
It also resents what it calls the prime minister's "unprincipled" friendship with Eritrean President Isaias Afwerki.
Mr Abiy won the Nobel Peace Prize in 2019 for his efforts to bring peace with long-standing foe Eritrea – but the TPLF feels that Tigray's interests have been overlooked.
Mr Debretsion has accused Eritrean forces of siding with Ethiopia. Ethiopia and Eritrea both deny this.
For his part, the prime minister believes the TPLF officials are undermining his authority.
Source link