World
Trump impeachment process: Who are the key players?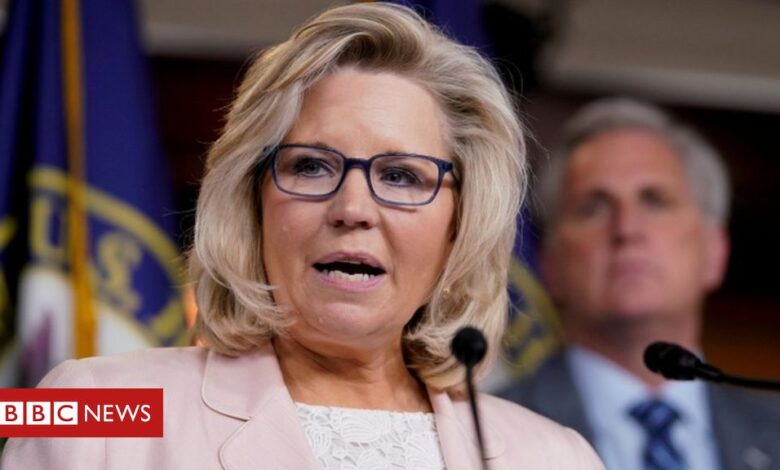 The US House of Representatives has voted to impeach President Donald Trump for a second time over his alleged role in the 6 January deadly assault on the Capitol.
His impeachment for "incitement to insurrection" was approved by 232 representatives including 10 Republicans.
Democrats led the effort to charge Mr Trump with encouraging the riots.
But some Republicans had backed calls for impeachment.
So, who are these key players, and what do we know about them?
Jamie Raskin, lead impeachment manager for the Democrats
When the impeachment charges go to the Senate for trial, the case for the prosecution will be made by a team of lawmakers, led by Mr Raskin, a Democratic representative from Maryland since 2017 and a former professor of constitutional law.
The impeachment of Mr Trump represents the continuation of an extremely challenging start to 2021 for Mr Raskin, 58.
The congressman's 25-year-old son, Tommy Bloom Raskin, took his own life on New Year's Eve and was laid to rest in early January.
A day after the funeral, Mr Raskin found himself hunkering down with colleagues, shielding from a violent mob that rampaged through the Capitol where lawmakers were meeting to certify November's presidential election result.
On the day of the assault, Mr Raskin helped to draw up an article of impeachment against President Trump.
Speaking to the Washington Post, Mr Raskin said his son, who was studying law at Harvard University, would have considered last week's violence "the absolute worst form of crime against democracy".
"It really is Tommy Raskin, and his love and his values and his passion, that have kept me going," Mr Raskin said.
Madeleine Dean, Democratic impeachment manager
In total, nine Democrats, including Mr Raskin, have been named as impeachment managers. One is Representative Madeleine Dean, from Pennsylvania, who is one of three women on the team.
Ms Dean started her career in law, opening her own three-woman practice in Pennsylvania before teaching English at a university.
Having been active in state politics for decades, she was elected to the House in 2018, using her seat to champion women's reproductive rights, gun law reform, and healthcare for all, among other issues.
"This isn't about a party. This isn't about politics. This is about protection of our constitution, of our rule of law," Ms Dean said.
Nancy Pelosi, Democratic Speaker of the House
As the Speaker of the House, Ms Pelosi has been in the spotlight since the riots in the Capitol.
Ms Pelosi leads the Democrats in the lower chamber of Congress, so the 80-year-old had a huge influence over the decision to introduce an article of impeachment against Mr Trump.
Ms Pelosi had the House proceed with impeachment after former Vice-President Mike Pence did not invoked constitutional powers to force out Mr Trump, who was then president.
Mr Pence said at the time he believed such a move was against the country's interests.
"This president is guilty of inciting insurrection. He has to pay a price for that," Ms Pelosi said.
Mitch McConnell, Republican Senate minority leader
Mr McConnell, a 78-year-old Republican senator for Kentucky, is one to watch in the Senate.
The upper chamber's former majority leader remains the man at the helm of the upper chamber's Republican caucus.
Dubbed the "Grim Reaper" by Democrats, Mr McConnell was a thorn in the side of former President Barack Obama, often manoeuvring to frustrate his legislative agenda and judicial appointments.
He was also the driving force behind Mr Trump's acquittal in his first impeachment trial in 2019.
In his last few weeks as Senate leader, Mr McConnell also delayed Mr Trump's trial until after the former president left office, saying there was no time for a "fair or serious trial" ahead of Mr Biden's inauguration.
Mr McConnell has not publicly commented on whether he supports convicting or acquitting Mr Trump, but he has sent some mixed messages.
Though he spent the last four years in the president's corner, the minority leader said the rioters were "provoked by" Mr Trump and that he plans to hear out both sides in the trial.
But later on in January, he also joined the majority of Republican senators to vote for a motion to toss out the impeachment case as unconstitutional now that Mr Trump is no longer in the White House.
Mr McConnell may no longer have the final say on all things impeachment, but as Democrats need Republican support to convict Mr Trump with the required two-thirds majority, he still has a key role to play in the upcoming proceedings.
Liz Cheney, Republican House Representative for Wyoming
Ms Cheney, 54, is third-highest-ranking Republican leader in the House. As the daughter of former Republican Vice-President Dick Cheney, she has a high profile in the party.
So, her support for impeachment is particularly significant.
Mr Trump had "summoned this mob, assembled the mob, and lit the flame of this attack", Ms Cheney said of the Capitol riots.
"There has never been a greater betrayal by a president of the United States of his office and his oath to the Constitution," the Wyoming representative said.
However, in a recent test of support for conviction on impeachment charges that Mr Trump incited his supporters to mount an insurrection at the US Capitol, 45 out of 50 Senate Republicans voted last week to consider stopping the trial before it even starts.
Ms Cheney survived a House Republican vote – 145-61 – to oust her from her leadership position after breaking ranks with other GOP lawmakers last month to impeach the former president.
She is also now facing a primary challenger for her Wyoming congressional seat after voting to impeach Mr Trump.
Ben Sasse, Republican Senator for Nebraska
Blocking Mr Trump from ever running for office again is one rationale that may motivate some Republicans to impeach the president.
That reasoning could be attractive to Republican senators like Mr Sasse, who is seen as a possible contender for the presidency in 2024.
Elected to the Senate in 2014, the 48-year-old has been an ardent critic of Mr Trump.
Mr Sasse was firmly opposed to a Republican effort – cheered on by Mr Trump – to overturn the certification of President-elect Joe Biden's election victory in Congress.
On the question of impeachment, Mr Sasse said he would "definitely consider whatever articles they might move" in the House.
A two-thirds majority would be needed to convict Mr Trump in the Senate, meaning at least 17 Republicans – including Mr Sasse – would have to vote for it.
Patrick Leahy, Democratic Senator for Vermont
In Mr Trump's first impeachment trial in 2020, it was Supreme Court Chief Justice John Roberts who presided over the proceedings.
This time, he declined to participate, handing the job over to the 80-year-old Vermont Democrat, who will take the gavel in this second impeachment trial.
Mr Leahy was first elected to the Senate in 1974, and is the longest serving lawmaker in the upper chamber.
He will be presiding in his role as the Senate's president pro tempore – a constitutional officer, responsible for presiding over the Senate in the absence of the vice-president.
In a statement, he said "the president pro tempore takes an additional special oath to do impartial justice according to the Constitution and the laws" when presiding over an impeachment trial.
"It is an oath that I take extraordinarily seriously."
David Schoen and Bruce Castor Jr, attorneys for Trump
With just over a week to go before the trial, Mr Trump parted ways with his legal team, including attorneys Butch Bowers and Deborah Barbier.
They were quickly replaced by David Schoen, a trial lawyer, and Bruce Castor, a former district attorney, who will lead the defence efforts for the former president.
In a statement, both attorneys said they didn't believe the push to impeach Mr Trump is constitutional.
Mr Castor added: "The strength of our Constitution is about to be tested like never before in our history.
"It is strong and resilient. A document written for the ages, and it will triumph over partisanship yet again, and always."
Mr Schoen has previously represented Roger Stone, former adviser to Mr Trump. Stone received a presidential pardon in December.
The lawyer also made headlines in the past for meeting with Jeffrey Epstein in his final days to discuss possible representation, and for later saying he did not believe the death of the US financier and sex offender was suicide.
Mr Castor, a former Pennsylvania district attorney, is known for declining to prosecute Bill Cosby for sexual assault in 2005. The comedian was eventually convicted on three counts of sexual assault in a 2018 retrial of his case.
Source link